Durham, North Carolina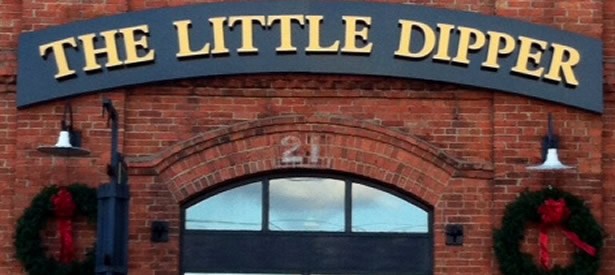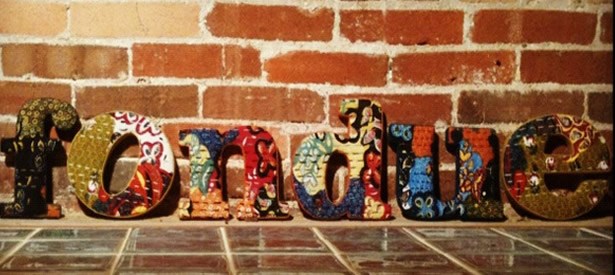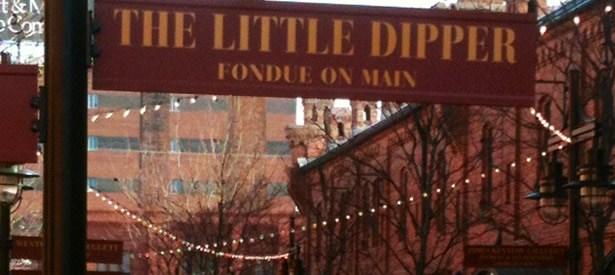 About
: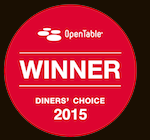 The Durham location opened in April of 2013, the second location for The Little Dipper, "Fondue on Main." As a full service fondue restaurant the menu includes cheese fondues, salads and soups, meats, seafood, vegetarian items and chocolate fondues, along with a special Sunday Brunch menu with a twist. Our tables are handmade with burners built into them, allowing guests to cook their own food right at the table. We are known for our specialty sauces, all homemade and delicious for dipping cooked meats and seafood.
The Durham location also offers a "LOCAL '919' MENU," as a special menu insert which includes options for each course made with locally sourced farm ingredients. The local menu is available a'la carte as well, so customers can order just the cheese fondue appetizer or just a salad course, for instance. The Durham Dipper is proud to be part of such a strong community who supports local farmers by offering seasonal features and sustainable menu items changing on a regular basis. To wet your whistle, we present an extensive wine list, an assortment of craft beers, and unique "Durham cocktails," with personality, in addition to The Little Dipper classic signature drinks.
The atmosphere is warm, energetic, colorful and will make you feel at home from the moment you step foot in the door. Fondue is an experience, meant to be enjoyed slowly with friends, family and loved ones all sharing one common pot for cooking. Many customers have commented that it's the only time they are able to step away from life, slow down and enjoy good conversation with the one they're with. We have friendly, outgoing servers who are able to guide you throughout the evening as you enjoy the fondue adventure. Come soon and get hooked!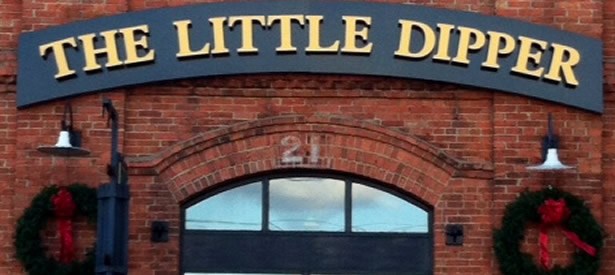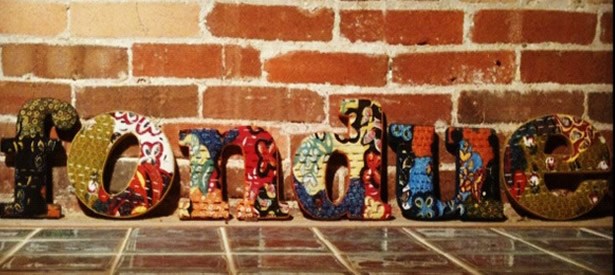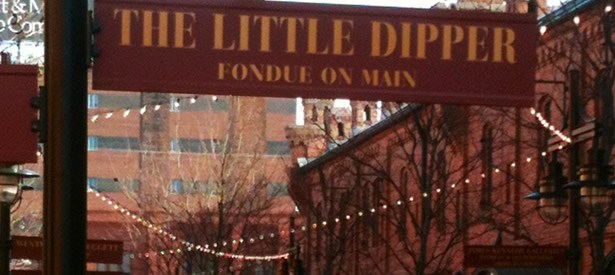 FAQ
:
How large of a party can you accommodate?
We have various options for smaller groups of 10 and less, but we have two options for larger groups because all of our tables are stationary. Click on thumbnails to view.
Option 1
The Party Room
seats up to 28 people comfortably, but maxes out at a tight 31.
These are three separate long tables with two burners in each, all set up in a private room. These tables do not move together because the burners are built in, but on one side of the tables is a long running booth and the other side is padded chairs with end caps if needed. This room is a great example of a space that can be useful for a rehearsal dinner, graduation dinner, small reception, business meeting or holiday party, for instance.
Option 2
The Main Dining Room
seats up to 20 people, with a mixed, separated configuration.
This is one large section made up of five booths, all of which seat four people each. There are higher "partitions" giving privacy to each table, but this could be an option for a large group that wants to be within the same vicinity, but who's not necessarily concerned about having one big visible row of tables.
Are there alternative menu options for large parties?
We do recommend a "set-menu" for larger parties that we can help create with your input ahead of time. This would usually include the entrees for four with a nice assortment, which everyone can share.
Does The Little Dipper offer seperate checks?
Yes, please let your server know who belongs together and we will be happy to provide separate checks.
Do you have any outdoor seating?
No, we do not have access to the courtyard, all of are tables are inside and cozy.
Does the Little Dipper offer gift certificates?
Yes, we do offer gift certificates. We currently do not sell gift cards online, however we can take orders over the phone with a credit card and mail them anywhere for just $1.
---
For more information please contact us to help you in planning a very special event! 919.908.1023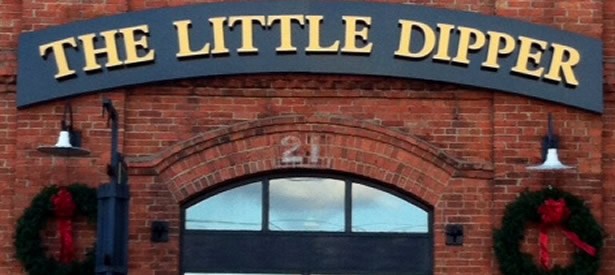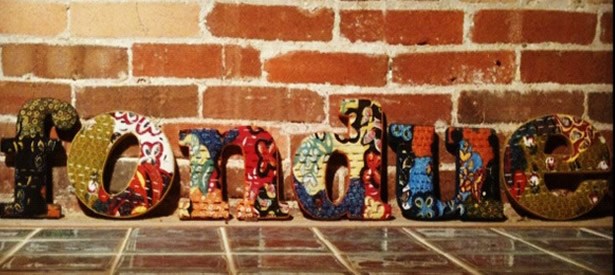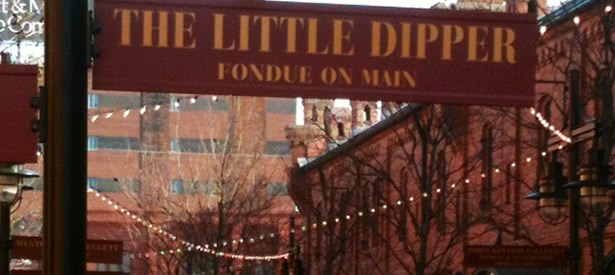 Take a Look
: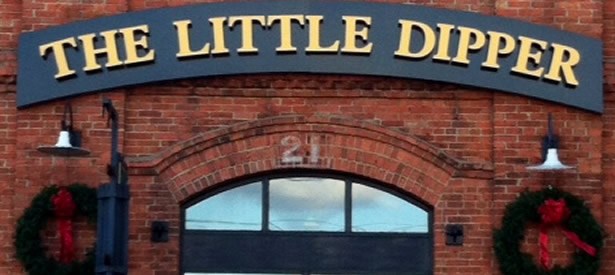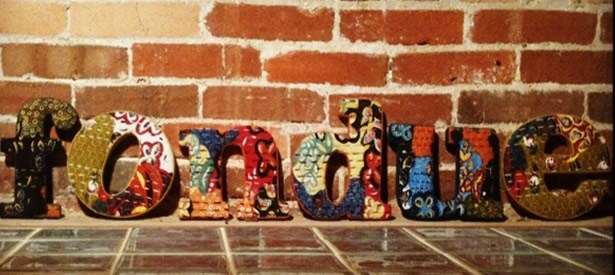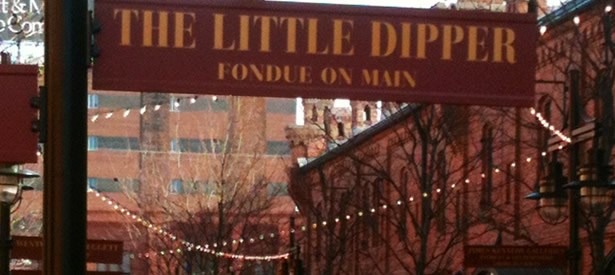 Specials & Promotions

: (not valid on holidays, thanks!)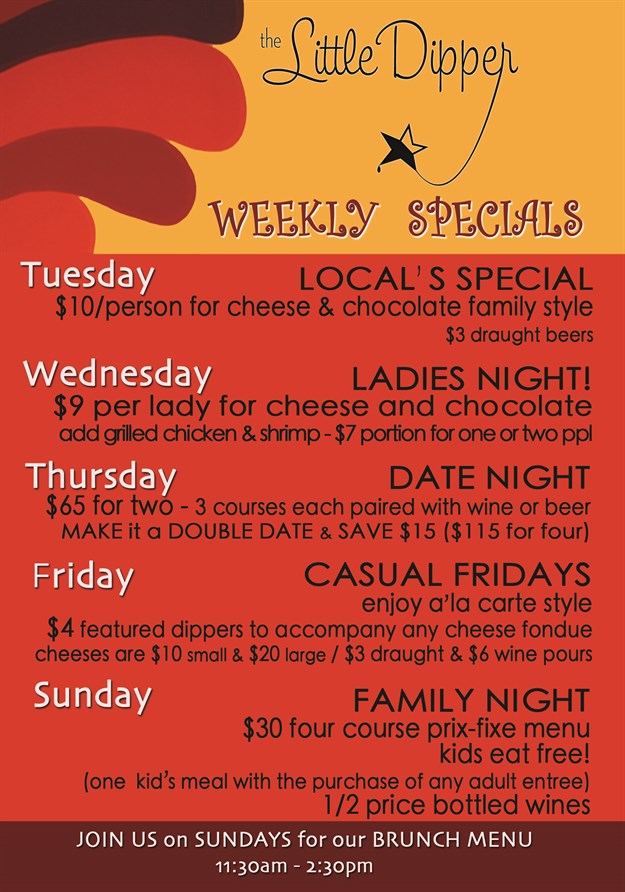 (Not valid on holidays, thanks)
Location & Directions
:
Brighleaf Square is located at the corner of Main and Gregson Streets in Downtown Durham, and is easily accessible from all major highways and nearby Duke University. The Little Dipper is located in the North Building of Brightleaf, Suite 21A, with the main entrance accessible inside the mall common area.
Coming from the courtyard entrance off Gregson, walk all the way to the other end where you will see Mt. Fuji on your right, walk inside that mall entrance and The Little Dipper is located up ahead on the left, entrance within the gate.
Coming directly off Main Street, The Little Dipper is the last entrance on the left walking from Gregson. Go inside the mall entrance, past Palmero Deli and Bull Frame and Art, and The Little Dipper entrance is located up ahead on the right, within the gate.
Parking is available in any one of three convenient lots. Follow signs to any of the three designated lots for Brightleaf Square, and please remember to validate your receipt before, during or after dinner.
Click here for a map of the area.
From Raleigh & I40
Take I-40 West to the Durham Freeway (Hwy 147). Follow the Durham Freeway North to the Duke Street exit. Take a right onto Duke Street and follow to Main Street, where you will take a left. Brightleaf Square will be on your left.
From Chapel Hill
Take the 15-501 bypass towards Durham. Exit onto the Durham Freeway towards Downtown. Take the Swift Street exit and turn left at the top of the ramp. Cross back over the freeway and take a Right onto Main Street. Brightleaf Square will be on your right.
From Greensboro and I85
Take I85 North to the Durham Freeway. Follow signs to Downtown Durham. Take the Swift Street exit and turn left at the top of the ramp. Cross back over the freeway and take a Right onto Main Street. Brightleaf Square will be on your right.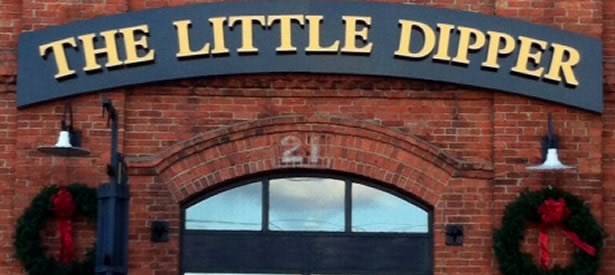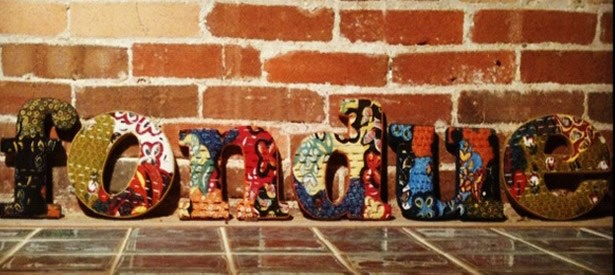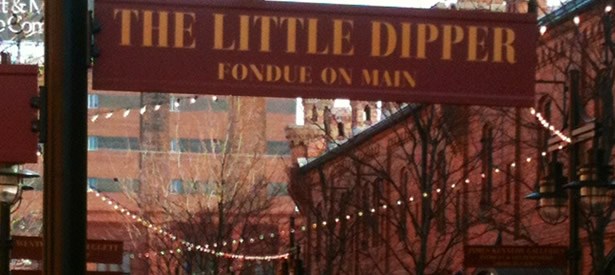 Drop Us a Line
:
The Little Dipper
Fondue on Main
Brightleaf Square
905 West Main Street | Suite 21A
Durham, NC 27701
p: (919) 908-1023

Open TUE-SUN for Dinner at 5pm,
Sunday Brunch opens at 11:30am